ComCult AB has a partnership with  Richard Lewis Communications (RLC), one of the world's leading and most experienced suppliers within the field of Cross Culture.
RLC has worked with coaching and training in Cross Culture since 1955 and has over the years trained over 750 multi-national companies from more than 60 countries.
RLC provides consultations as well as seminars with hands-on solutions in the challenging multi-cultural environments we meet daily.
Together with RLC our company has developed a method that makes it possible to combine language, communication and Cross Culture into one course. This concept has turned out to be very helpful for our client companies who act in the international arena.
Contact us for more information about our combination courses.
We use RLC's academically verified model, the Lewis Model, as base in our seminars, individual coaching and virtual training. The Model makes it easier to understand and also communicate across the cultural borders.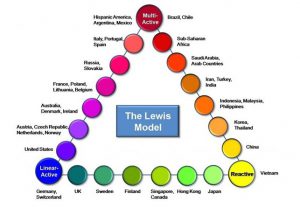 Look at RLC's demonstration video and visit their home page to learn more about the model and RLC's unique on-line training tool.
This is a selection of courses we offer:
How does the national culture affect the success or failure when it comes to the business strategy?
When Cultures Collide – inter-cultural issues
China – new business partner
"the BRICS" – Brazil, Russia, India, China and South Africa – how to plan business meetings with them
To give speeches to a multicultural audience, and media training
Cross Culture communication and persuasion
Presentations across cultural borders
Negotiations across cultural borders